Getting to Know You and Your Trees
We start by listening to your concerns and then visiting your property...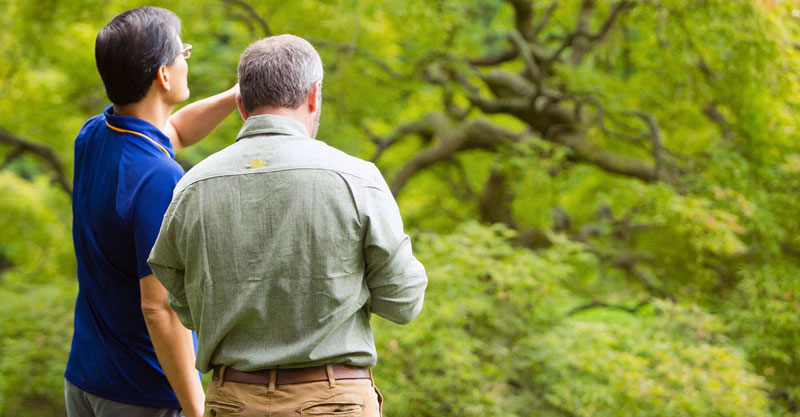 We offer 2 options to get started.
Option 1 – Meet and Greet
Schedule a date and time to walk and talk about the care of your trees. This brief meet and greet will benefit you in many ways. You will better understand how properly maintained trees provide value and wellness to your home. Our certified arborists can provide insight and direction on other aspects of your landscape which will further compliment the outdoor setting around your home. You will receive a clearly written proposal, outlining the scope of work.
Option 2 – Quick Stop
Per your request, one of our certified arborists will go to your property and review your specific request or concern, and will provide you with a clearly written proposal, outlining the scope of work. Our visit does not address any other trees or site conditions of the property.
Client Reviews of Our Service and Care
Get To Know Us...
Shreiner Tree Care provides the latest and most progressive horticultural techniques to properly manage your property. Your landscape reflects your commitment to having a beautiful and healthy home. Our arborists will listen to understand your wishes and then provide you with the latest information on how we will care for your trees and landscape. Our arborists work hard to deliver seamless, uncompromising quality to maintain your trees and plantings throughout the seasons.
---
Shreiner Tree Care Reviews
Time Tested & Customer Trusted...
---
Nov 22, 2022
The house looks amazing, the guys did such a great job and were all so sweet. Everything is so clean, and it is a total transformation.
Nov 7, 2022
I cannot tell you how absolutely thrilled I am about the results. The crew worked diligently and expertly as a team, trimming all the dead branches, addressing any issues that they saw, clearing up all the debris and even blowing the leaves off our driveway and roof area. The care each of them showed to our property warmed my heart. I also want to add that they identified a very unhealthy tree that was not initially visible until they were actual up in the tree. Videos were taken and shared with Tyler who provided an expert solution to the issue. Thank you to everyone and customer service for the teamwork you showed.
Nov 2, 2022
The crew did a great job! They were very nice and I'm very happy with how everything looks.
Oct 24, 2022
We have used Shreiner Tree Care for years to meet our property needs and once again we have been very pleased. Our representative, Ryan Day, always provides professional and courteous services. His knowledge and skill as an arborist are recognized and appreciated. Ryan's crew completed our job in a timely, thorough manner, while prioritizing customer satisfaction. We look forward to employing Shreiner in the future and will continue to refer friends and family. Thanks again for a job well done!
Oct 19, 2022
Great Team! Super nice guys! You're lucky to have them. Super glad we used Shreiner. Thank you!
---
From Roots to Shoots My Mentor: Sam Virgilio • Summer Drought• Dead Ash Tree Dangers• Winter Pruning Tips& more inside!
Our Mission Since 1986
There have been three constants at Shreiner Tree Care.
1. Take care of the needs of our clients: promptly and professionally.
2. Develop an outstanding team-based staff that we value highly and treat like family.
3. Provide stewardship of the environment and support the community we live in.
These three essentials have defined our past, sustain us today, and will guide our future!
We look forward to working with you.
Serving the Main Line Community Since 1986...