Getting to Know You and Your Trees
We start by listening to your concerns and then visiting your property...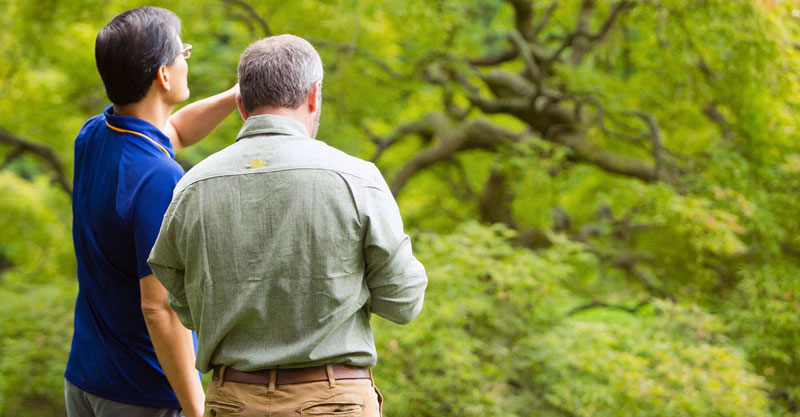 We offer 2 options to get started.
Option 1 – Meet and Greet
Schedule a date and time to walk and talk about the care of your trees. This brief meet and greet will benefit you in many ways. You will better understand how properly maintained trees provide value and wellness to your home. Our certified arborists can provide insight and direction on other aspects of your landscape which will further compliment the outdoor setting around your home. You will receive a clearly written proposal, outlining the scope of work.
Option 2 – No Contact
Request a no-contact visit, after noting your concerns, a Shreiner arborist will review your property to inspect and evaluate your specific request or concern, and will provide you with a clearly written proposal, outlining the scope of work.
Client Reviews of Our Service and Care
Get To Know Us...
Shreiner Tree Care provides the latest and most progressive horticultural techniques to properly manage your property. Your landscape reflects your commitment to having a beautiful and healthy home. Our arborists will listen to understand your wishes and then provide you with the latest information on how we will care for your trees and landscape. Our arborists work hard to deliver seamless, uncompromising quality to maintain your trees and plantings throughout the seasons.
---
Shreiner Tree Care Reviews
Time Tested & Customer Trusted...
---
Jul 31, 2020
We hired Shreiner to remove 5 huge dying Ash trees that were close to the house. We couldn't have been happier with our choice. Tyler and his crew did an excellent job. They were knowledgeable, well trained and took pride in their work. Fair cost and excellent customer service from the office. Thank you!
Jul 22, 2020
On July 9th , 2020 a large limb from an oak tree fell , breaking another branch and landing on top of our Cypress Hedge . We sent an e-mail to Shreiner Tree Care . Within an hour Shreiner workers were removing the limbs . That is Service !!
Jun 25, 2020
My wife and I began using Shreiner Tree Care a couple of years ago, after becoming unsatisfied with another company. We have a considerable number of older trees as well as several more recently planted ornamental trees, so our needs are numerous and varied. Shreiner has consistently met or exceeded our requirements and their workers are knowledgeable and competent. An excellent local company to deal with.
Jun 4, 2020
Yesterday, a brief summer thunderstorm with 80+ mph wind gusts, brought several sizable tree tops down on top of several vehicles, doing considerable damages. Shreiner Tree Service responded to my call immediately, mobilizing and dispatching adequate equipment and a highly professional well trained team. They took care of our urgent tree work needs promptly and efficiently.
Jun 2, 2020
One Call to SHREINER Tree Care's Plant Health Care TEAM was all it took to SUPPRESS the Spotted Lantern Fly Insects which were INVADING my Backyard and Patio..... Job Well Done and AFFORDABLE!!!!!!!
---
From Roots to Shoots Why Trees Uproot? • Pest Updates• Winter Pruning Tips• Friendly Plant I.D. App& more inside!
Our Mission Since 1986
There have been three constants at Shreiner Tree Care.
1. Take care of the needs of our clients: promptly and professionally.
2. Develop an outstanding team-based staff that we value highly and treat like family.
3. Provide stewardship of the environment and support the community we live in.
These three essentials have defined our past, sustain us today, and will guide our future!
We look forward to working with you.
Serving the Main Line Community Since 1986...